Both you and your customers benefit when they can discover and automate workflows directly inside your user interface (UI)—right when and where it makes the most sense. And our easy-to-use integration tools can help. 
To show you just what our embed tools can do, we've rounded up examples of partners who have used our integration features successfully—and grown their user base along the way. 
The opportunity
When customers start using your app, let them know it works exactly the way they want it to, and that it can interact with the rest of their tech stack. And as prospects turn into new customers, ensuring they can automate from within your product helps boost engagement. 
The solution
With our embed tools, you can show your users they can automate workflows with your app—quickly and without leaving your product. Our most successful partners are those that leverage these tools to grow their users, retain customers longer, drive upgrades, and improve lifetime value. 
The tools
Bring thousands of integrations into your product without using precious engineering time and resources with our two embed tools: 
The Full Zapier Experience
The Full Zapier Experience gives your users a full, end-to-end automation experience right inside your app. That means users can discover, create, and (for the first time ever) edit their Zaps in your product. This easy-to-access automation in your app helps them accomplish what they set out to do: build workflows without distractions.
Zap Templates
Zap Templates are pre-made Zaps that help users discover popular ways to automate their work. Each template features a specific use case and the apps (including yours!) needed to make it work.
You can showcase your Zap Templates across your site to help inspire your users to automate their work. 
Any.do 
Any.do is a task and project management app that can serve both individuals (personal) and teams (workspace). The company wanted to provide the value of automation to their users—without draining precious engineering resources. After partnering with Zapier, Any.do users could connect with 5,000+ apps in just a few clicks. 
Any.do's solution
Setting up the Full Zapier Experience: The Any.do team took their partnership to the next level with the Full Zapier Experience. Embedding the FZE only took a few hours to implement and set their users up for success (and kept them engaged and inside their product). 
"The Full Zapier Experience allows our users to create the workflows they need without leaving the Any.do app, which aligns with our focus on simplicity."
Omer Perchik, Founder and CEO of Any.do
The value: Embedding the Full Zapier Experience allowed their users to connect Any.do to thousands of other apps and automate business-critical workflows right in their product. It eased user activation and reduced friction, making for a much clearer, native experience.
With this experience in place, Any.do users can automate things like creating new tasks from saved messages in Slack—without leaving Any.do's site.
"As a data-driven company, Any.do monitors the FZE's performance heavily. Our data suggests that users who connect Zapier with Any.do are more productive—and find Any.do to be more useful for their needs."
—Omer Perchik, Founder and CEO of Any.do
Stats:
Upgrades to paid accounts: Any.do users who automate Any.do tasks with Zapier are 25% more likely to upgrade to a paid plan. 

Longer lifetime value: Connected customers are much more likely to retain and add their teams to Any.do when they have at least two Zaps activated. 

Reduced churn: Any.do users who automate Any.do tasks with Zapier are 30% less likely to churn.
"Zapier is the ultimate partner for a modern SaaS platform. We've been partners for years, and our customers (as well as the team) love them. [The Full Zapier Experience] was very simple and straightforward to set up." —Omer Perchik, Founder and CEO of Any.do
BrightHR 
BrightHR, an HR management tool, saw that Zapier had the highest number of integration options out of all the competitors they evaluated. They wanted to offer their customers automation flexibility—which increased usage and engagement. 
BrightHR's solution
Embed the Full Zapier Experience: Setting up the Full Zapier Experience only took BrightHR a few minutes with the provided code snippets. BrightHR has an area in their software called Bright Labs where their users can opt into new experimental features. 
BrightHR users can automate tasks directly within BrightHR.
The value: Embedding this feature into Bright Labs reduced friction when their users created new Zaps, since it saves their customers valuable time and cuts down on context switching. In addition, customers can manage their Zaps right there—which has improved their productivity.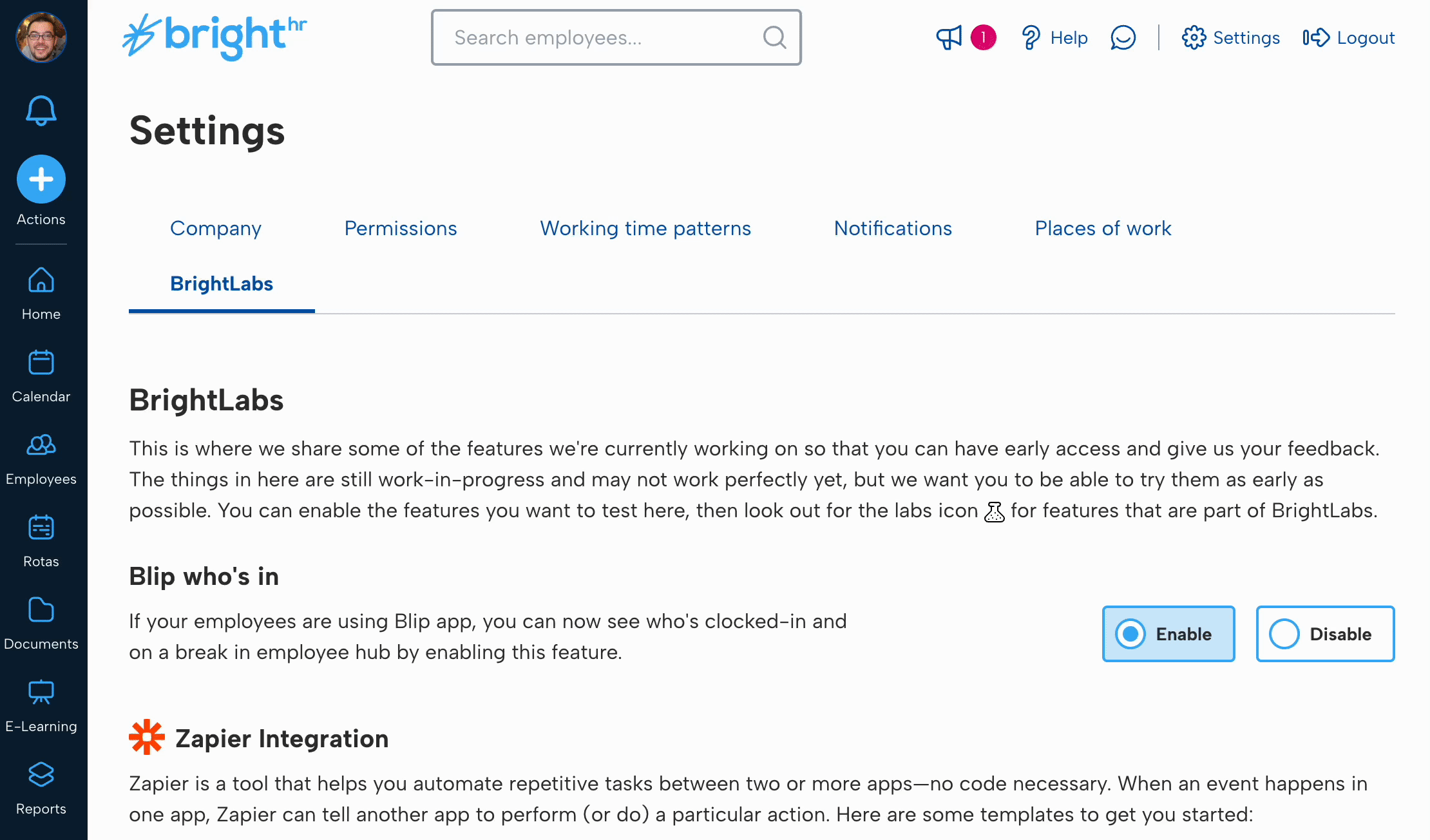 With this experience in place, HR managers can automate things like emailing forms to new employees—without leaving BrightHR's site.
"With the Full Zapier experience integrated within BrightHR, our customers can now seamlessly manage all their Zaps from a single, intuitive platform that empowers them to streamline their processes and boost their productivity."
David Sellers, Head of Innovation at BrightHR
Stats:
Added value: Encouraged users to upgrade as the BrightHR integration is only available to paid users. 

More business: BrightHR signed up and onboarded larger/mid-market businesses that had integrations as a requirement in their vendor search.

Higher revenue: Opened up opportunities with larger businesses which have a higher contract value.