Once you build a Zapier integration, that's not the end of your journey. You'll need to check in to make sure customers are getting the most out of it. That means spreading the word by showcasing the value of your integration at every customer touchpoint.
Using our embed tools, you can show off your integration to new and existing users across your onboarding flows, in-product, and across your site. 
Not only will your customers love the speed and convenience of automating tasks directly in your product, but they're also spending more time on your site. Ultimately, that expands upsells, lifetime value, and retention. 
Below, we'll show you how to pull your integration into your entire customer journey with our two embed tools: the Full Zapier Experience and Zap Templates. 
Table of contents:
A quick overview of your embed tools
We designed our embed tools for teams of any size (and limited engineering resources) — and you can set them up within 15 minutes. Get started today.
The Full Zapier Experience: The easiest, all-in-one tool
Setting up the Full Zapier Experience
The Full Zapier Experience lets you pull your Zapier integration directly into your product—all with just two lines of code. Users can discover ways to create, edit, and manage their automated workflows without leaving your app. 
Your users can: 
Discover. Users can visit the landing page with the Full Zapier Experience on your site. They can find use cases (your pre-made Zap Templates) and explore possible apps (your App Directory) they can connect to yours. 

Log in or sign up. When clicking on a template or app listing, a text modal opens up within your site, prompting them to log in or sign up if they don't have a Zapier account. 

Create. Once they're done, the Zap editor will open on this same modal, and users can create or edit Zaps.

Manage. They can also view a Zap's status or edit and manage their Zaps connected to your app—without leaving your product or going through Zapier first. 
Zap Templates: Inspire users with sample tasks to automate
Kajabi users can explore use cases and apps that connect with Kajabi.
Zap Templates are pre-made Zaps that help users discover popular ways to automate their work. Each template features a specific use case, and the apps (including yours!) needed to make it work.
You can easily embed your Zap Templates anywhere across your site to showcase the full value of your integration. That way, users can start automating with (and in) your app quickly and easily. 
You can embed Zap Templates in your community or support site, on your blog, or anywhere else to show users how they can automate workflows across your app.
Maximize your customer journey touchpoints
Now, let's take a look at your customer journey. When it comes to automation—and introducing your integration to your users—you can map the customer journey across three stages: 
Raising awareness among prospects

Onboarding new customers

Retaining existing customers
For example, integrating Zapier has already paid off in spades for Adalo: 
"We had been hovering in the 400 [monthly active user] range for almost a year, and then all we did was simply embed Zapier and now we're up around 650/month for the last few months." —David Adkin, Co-Founder and CEO, Adalo
Raising awareness among prospects
You can give your prospects the nudge they need to choose your app by featuring your integration across your site. It helps your leads see—as soon as they land on your site—your app plugs directly into the other tools in their tech stack. 
This relates back to the discovery portion of the Full Zapier Experience. The FZE showcases a customized version of Zapier's App Directory. Your users can search through thousands of available apps that pair with yours and discover what other people have already automated. 
Plus, seeing sample use cases helps them visualize your integration's possibilities even more clearly. Remember, you can also embed Zap Templates anywhere directly on your site where leads might find you!  For example, Duda provides Zap Templates to help customers optimize their contact journey: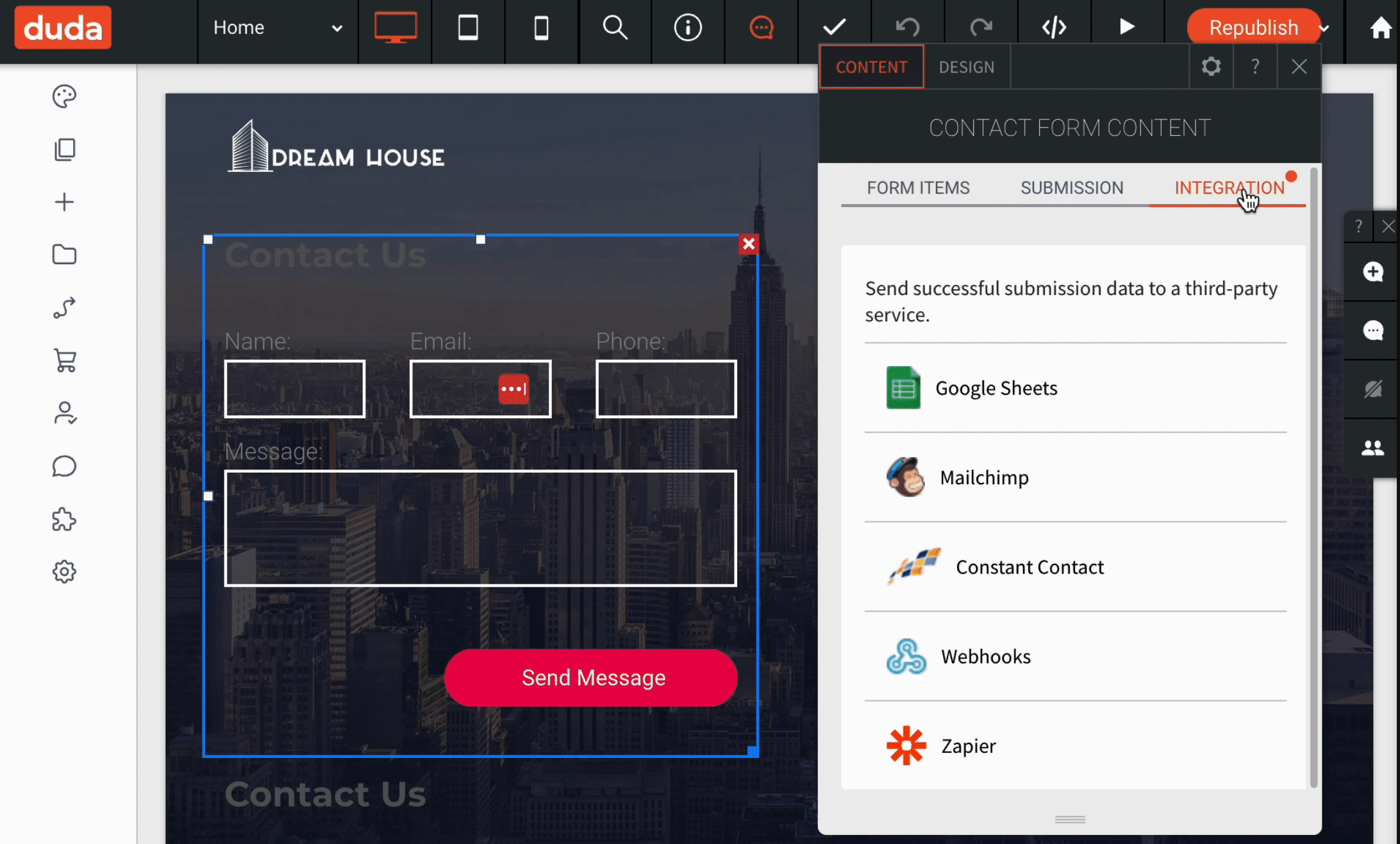 Duda users can automatically send new contact form submissions straight to Airtable.
"We embedded Zapier much more deeply into the Duda product and, as a result, increased the number of users and reached Platinum level [in the Zapier Partner Program]. We're very happy!" —Amir Glatt, Co-Founder and CTO at Duda
Onboarding new customers
Now that you've landed a customer (congrats!), your goal is to onboard and show them they've invested in the right product—which paves the way for upsells. 
Keep up that momentum by highlighting your integration across your onboarding experiences (via Zap Templates) and inside your product (via the creation portion of the Full Zapier Experience). 
For example, integrating Zapier into customer onboarding and training has paid off for Autopilot: 
"Autopilot paying customers that connect to Zapier are 17 percent more likely to upgrade compared to those that don't connect." —Anne Fleshman, Director of Marketing at Autopilot
For OpenPhone, this means catching their users early in their journey:
OpenPhone inspiring their users with workflows in-app
"We want to provide our customers the best experience possible and make it super easy to start automating tasks related to all work communications. Zap Templates have been super helpful to give our users ideas for tasks they can automate." —Daryna Kulya, Co-Founder at OpenPhone
Of course, your product is where the user experience is most vital. By integrating it directly into your app with the Full Zapier Experience, your users can create and edit their business-critical Zaps—without ever leaving your site.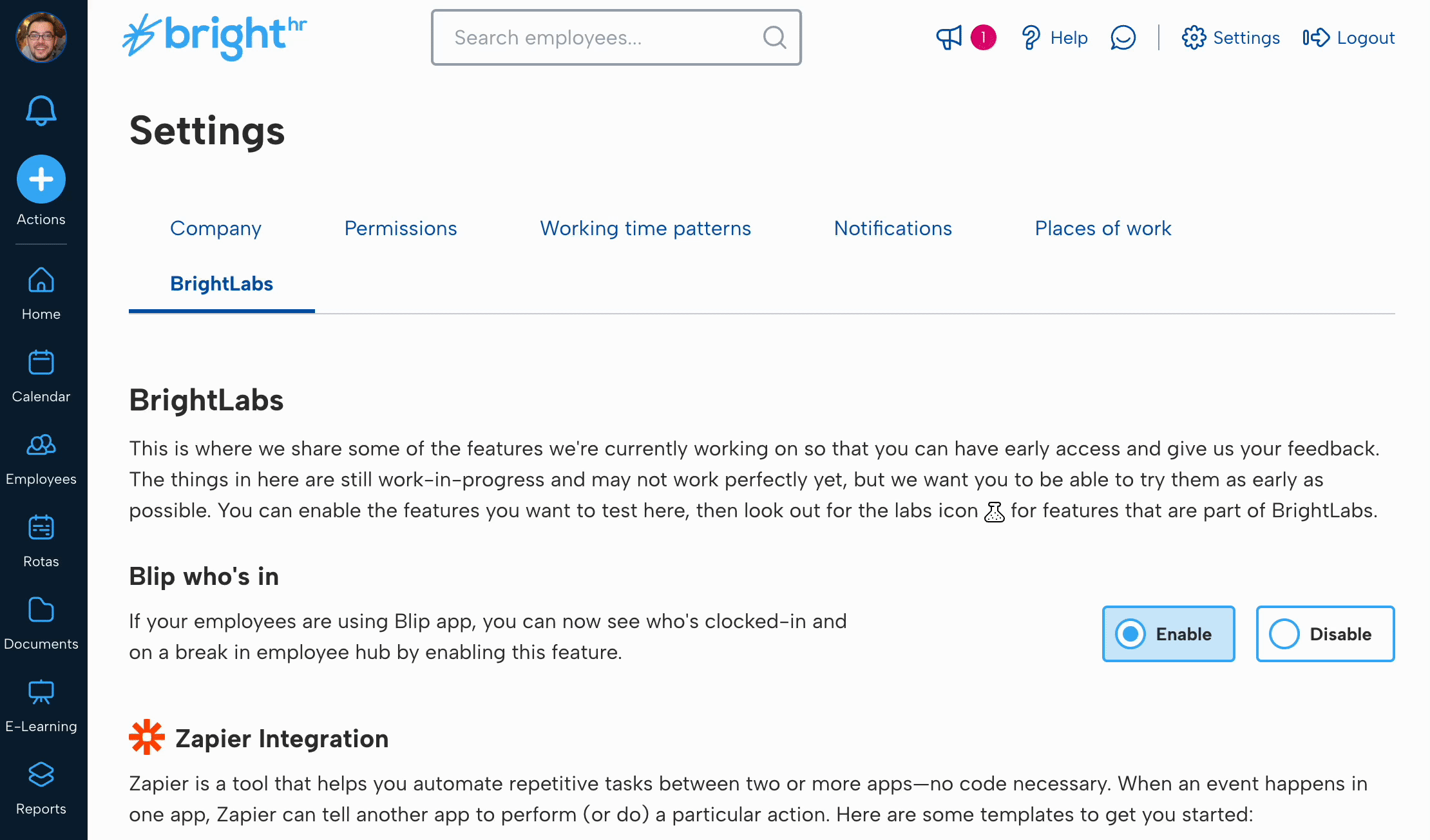 BrightHR users can create, edit, and manage their BrightHR workflows inside the product
This frictionless experience is exactly what your new users are after and will help you increase retention. For example, with this experience in place, HR managers using BrightHR can automate tasks like emailing forms to new employees without leaving the site. 
"The Full Zapier Experience (FZE) has been a game-changer for us. Using Callingly requires an integration, so for us, getting customers connected as quickly and easily as possible is critical. The FZE made it so simple for customers to start using Callingly and customize it right from our onboarding materials and dashboard." —Leon Klepfish, Founder at Callingly
Callingly users can automate in-product
Retaining existing customers
Now that you've had your customer for a while, your challenge is making sure they stick around. That's where the Full Zapier Experience can help. The FZE helps your customers find new ways to use your integration and set up and manage these workflows inside your app. 
"Providing the embedded Zapier dashboard directly in our interface reduces setup friction and improves the overall user experience, enabling our customers to set up automations faster and more effectively." —Vlad Gozman, Co-Founder and CEO at involve.me
And once users create their automated workflows with your app, they can manage them directly inside your product and view their statuses—no need to toggle over to the Zapier site first.  
It's the power of two apps packed into one (yours!), which helps you increase customer activation and engagement. 
Any.do users can create Zaps and manage existing workflows
"We were so excited to hear about the new Full Zapier Experience. Right after the launch of Any.do Workspace, we embedded Zapier in app right away because it helps us bring the full power of automation to our users faster with a more seamless experience." —Omer Perchik, Founder and CEO at Any.Do
Get set up in 10 minutes
How to set up the Full Zapier Experience
The Full Zapier Experience is available today and only takes two minutes to add onto any site. Or you can modify your existing embeds to include the Zap Editor.
First up, log in to your Partner Program Dashboard and select the Full Zapier Experience under your Embed options. 

Follow the in-app instructions. You'll get a client ID and provide "allowlist" domain names. 

You can select the full experience or pick and choose which solutions to include via one generator. You'll get two lines of code for whatever combination you've selected. 

Copy and paste the code directly into your product. (e.g., wherever your users may already be looking for automation solutions).
Not sure where to add your integration in-product? That'll depend on your app category—and how users leverage your app. For example, CRM apps should place their integration where their users are moving or managing their leads. eCommerce apps, on the other hand, should place it exactly where their users manage orders.
How to embed Zap Templates
Log in to your Partner Program Dashboard and select Zap Templates under your Embed options. Type in your app's name. 

Click on Generate code and copy your custom HTML code. 

Embed across community or support sites, blog posts, onboarding materials, and more!