Eating lunch as a remote worker is hard enough on its own. But I'm a digital nomad, which means I can't really rely on anything to be "standard." My location is changing quite a bit, I often don't have access to a full suite of kitchen tools, and I'm usually more focused on where I'll be living next, not what I'll be having for lunch.
So I took to meal planning—making sure I have something in my back pocket no matter where I am or what my housing situation is. I needed a tool that would help me see all these recipes easily, so I added them to the app I use to overplan every other aspect of my life: Notion.
My Notion recipe template (I call it my recipe book) lets me save my favorite recipes in one place and avoid that all-too-common feeling of overwhelm when I'm meal prepping. No matter where I'm working from in a given week, I can look through my recipe book and find something that'll work.
You can duplicate my template and start using it, or keep reading to learn why I use Notion to organize my recipe list—and how the template works.
Why I keep returning to Notion for my recipe list
I use Notion for my recipe list for the same reason I use Notion for…literally everything else. 
It's easy to sort. Between the tags and checklist properties, I can create different database views to help me sort and organize everything. 

It's pretty. What can I say? Sometimes I need a picture to help me decide what I want to eat. With Notion, I'm able to adjust colors, layout, images, and everything in between. 

It's mobile-friendly. Both my partner and I have the Notion app on our phone, so when we go to the grocery store, we have everything we need (including our grocery list) in the palm of our hands—and we can check everything off in real-time. 

It's already my organization hub. Instead of adding yet another app to my personal tech stack, I get to keep all my lists in one central tool.
Notion recipes template
Here's the link to my Notion recipe template. Once you've opened it, click Duplicate in the upper-right corner to create your own copy and start customizing.
Follow along as I walk you through my custom recipe list and show you how I use it to get more excited (and less overwhelmed) when cooking as a digital nomad.
The most mouth-watering recipe database
The first step is creating one database to contain all the recipes.
Before I dive into the different views that make it so helpful for my nomadic meal prep, let's take a quick look at each individual recipe page.
Recipe pages
Each recipe is a separate entry, with a few critical properties that need to be filled out—these properties create the views I find so valuable. 
The first two properties have to do with where I get the recipe: 
Source: This is just for my own notes—I like seeing which recipe bloggers I keep coming back to. 

Recipe link: I almost always follow someone else's recipe, and this is where I put the web link for easy grabbing. 
The remaining four properties are all tied to the different views I use:  
Type: I use this property to sort things like dinner options vs. baking recipes. 

Tags: I use this property to help me get more granular with each recipe for sorting. The categories I have include things like soup, bread, and salad. As you get more familiar with this database, add your own categories, so you can sort your recipes in a way that suits you. For digital nomads like me, you could make categories like "van-friendly" or "warm climates."

Favorite: This checkbox lets me view only my favorite recipes.

Untested: This property lets me create a view for all the recipes I haven't tried yet. 
The last property, Notes, is just a section for any personal notes and isn't tied to any view.
Don't forget the best part: the image! I use the image address (just by copying the URL) to add photos to each recipe page, but you can also upload pictures of your own creations. Hover above the title, click Add cover, then click Change cover.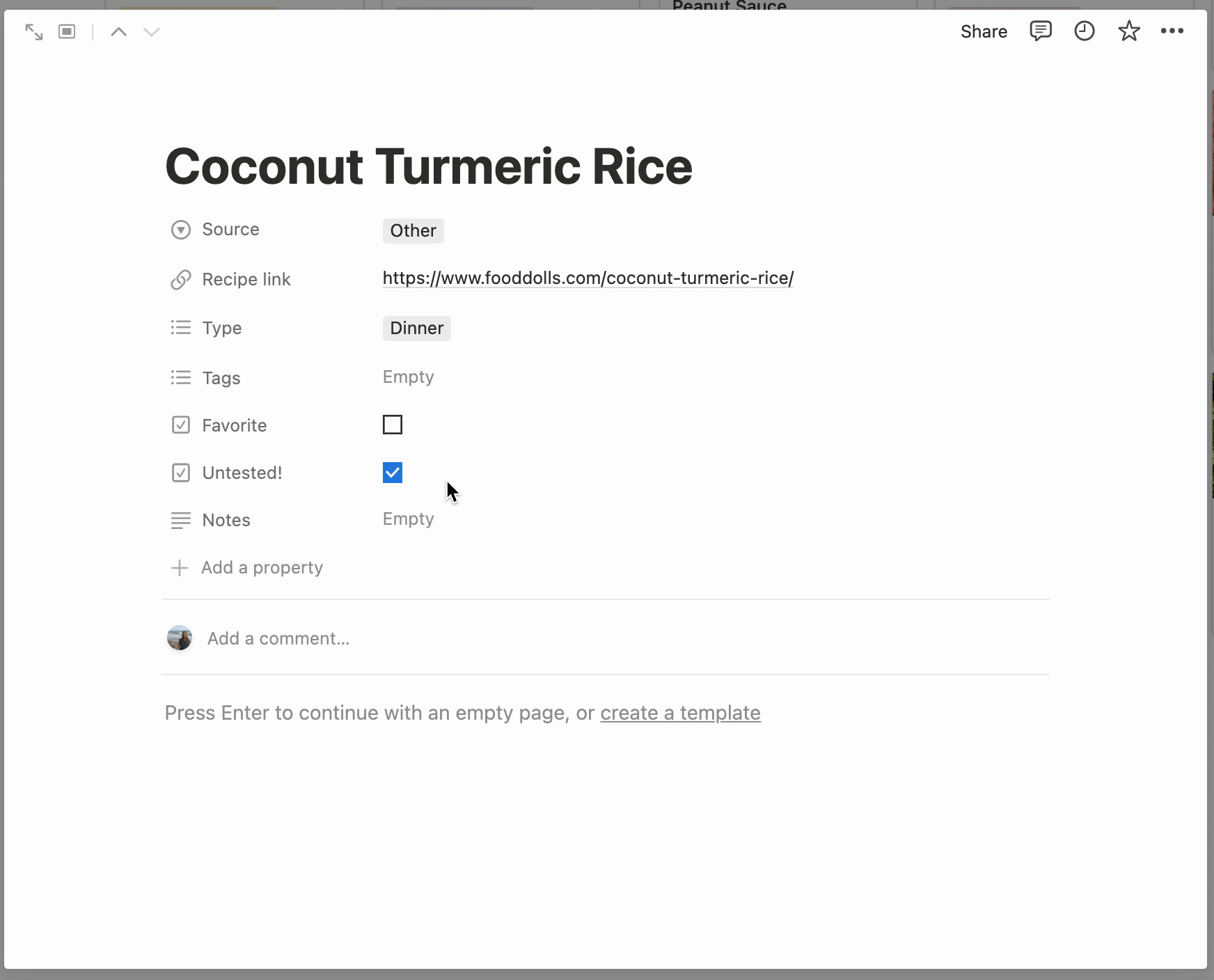 Sort your recipes
You can create whatever views are most helpful for you, but the ones I rely on the most are sorting by meal type, favorite meals, and recipes I haven't tested yet.
Again, I use the type property on each recipe page to sort my recipes by meal type. 
This makes it less likely that I'll get in the mood to bake when I should be focusing on dinner. And I can go straight to my Baking view after I binge The Great British Bake Off.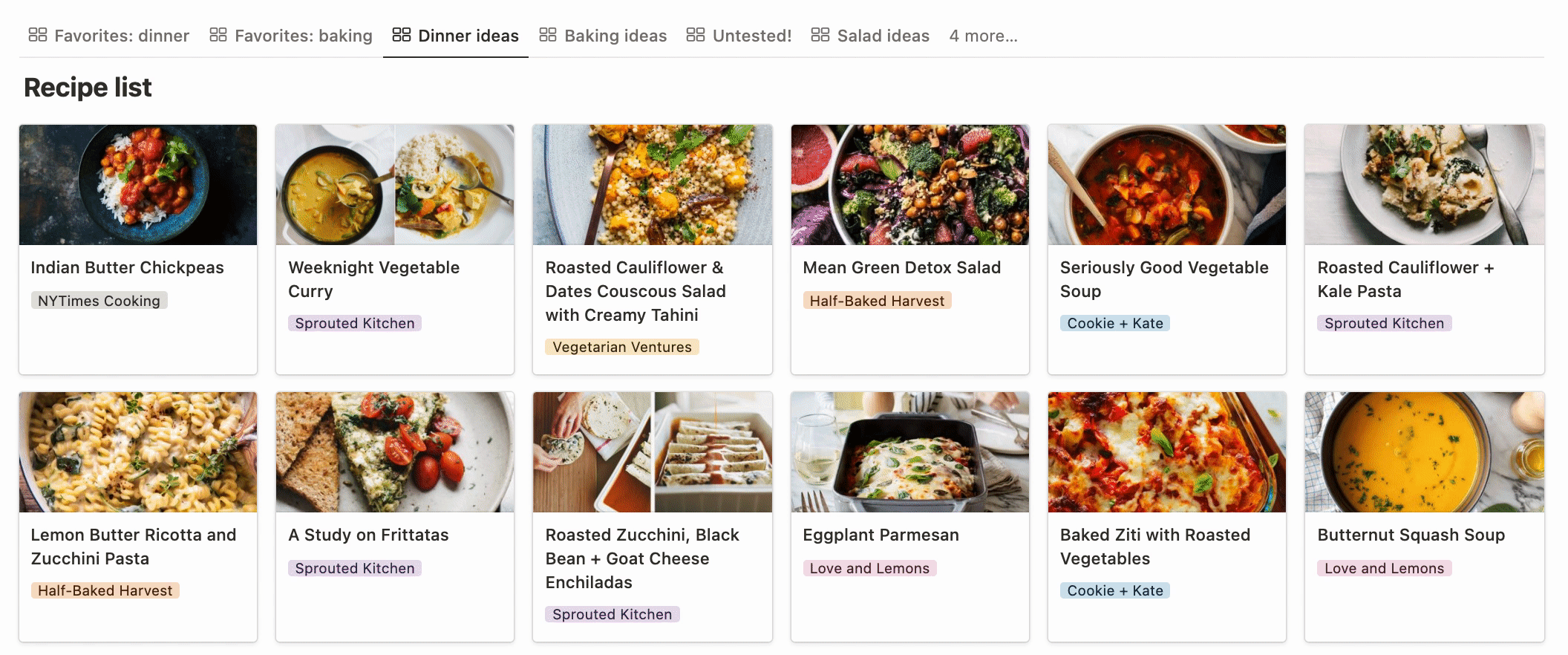 I also find my favorites and untested views super valuable. 
Whenever I check the favorite or untested property, it automatically sorts that recipe into the right view. If I've just arrived in a new location and am dealing with logistics that are more pressing than dinner, I can quickly see all my go-to favorites. Or if I'm feeling adventurous, I can look at my Untested! view to try something new.

Less searching, more cooking 
With this recipe list in Notion, you don't have to set anything up: just start filling in your recipes. I no longer spend hours searching for recipes and can quickly and easily plan out meals for the week—even when I'm coworking with my sister in Sweden. This recipe book template makes it easier to be a digital nomad and has helped me find the joy in cooking again. Happy recipe organizing!
Related reading: